techne.
saturator II
5.2022
A wave-shaping device made with Max for Live. Use the exponential, clip, and sinusoidal parameters to design a transfer function, or draw one in with your mouse. ↬GitHub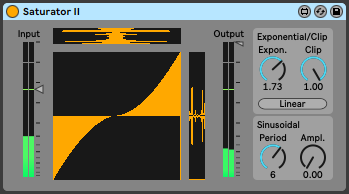 fig. 1 - click on image to enlarge
course description
ME363 - Electroacoustic Sound Design
This course explores fundamentals of acoustics, including sound waves, room and hall acoustics, and metrics of sound. Spatialized sound, Audio engineering, including microphones, signal processors, amplifiers and loudspeakers. Applications of psychoacoustics including virtual acoustic environments over headphones and loudspeakers. Synthesizer design, digital and analog prototyping.